Analisis Rencana Strategis Sumber Daya Manusia (SDM) Keperawatan Di Rumah Sakit Wilayah Jakarta
Kata Kunci:
PerspectiveBalance Score Card, Growth and Build Strategy, Key Performance Indicators, Nursing Management Information System (SIMK), Hospital Management Information System (SIMRS)
Abstrak
Pendahuluan: Sumber Daya Manusia (SDM) menjadi pemegang peran penting dalam kemajuan organisasi. Perawat adalah profesi terbanyak didalam pelayanan kesehatan yang memerluka prencanaan strategis untuk dapat membantu memaksimalkan kekuatan dan meningkatkan kualitas asuhan keperawatan dan keselamatan pasien. Tujuan: untuk menyampaikan hasil eksplorasi data sumber daya manusia keperawatan dan menganalisis data serta membuat rekomendasi strategis yang dapat dilakukan oleh perawat manajer dan rumah sakit dalam mengelola sumber daya keperawatan di Rumah sakit wilayah Jakarta. Metode: Metode yang digunakan adalah studi kasus menggunakan wawancara dan observasi lapangan. Hasil eksplorasi data kemudian dianalisis dengan menggunakan tinjauan literatur, dan dianalisis menggunakan format SWOT (strength, weakness, opportunity, threats), Matrix IFE (internal factor evaluation) dan EFE  (external  factor evaluation), serta merumuskan strategi TOWS (threats, opportunity, weakness, dan strength) dan dituangkan dalam tabel  Key Performance Indicator (KPI). Hasil: Rumah sakit wilayah Jakarta berada pada posisi maka posisi Sel III. Dengan perencanaan strategis menggunakan strategi Hold and Maintain, dan fokus dalam strategi market penetration dan product development. Dengan nilai IFE sebesar 1,98 (Lemah) dan Nilai EFE = 3,02 (Tinggi). KPI yang telah diformulasikan antara lain Pengembangan pendidikan keperawatan berkelanjutan dengan program beasiswa, pengembangan kompetensi SDM keperawatan, Peningkatan program retensi SDM keperawatan, Peningkatan sistem reward keperawatan berdasarkan jenjang karir dan klaster unit keperawatan, Peningkatan mutu pelayanan keperawatan. Rekomendasi: Rumah sakit X Jakarta dapat melakukan peningkatan kompetensi SDM dengan memberikan kesempatan pengembangan profesi berkelanjutan secara formal maupun informal, meningkatkan mutu dan kualitas pelayanan kepada pasien, meningkatkan retensi karyawan, dan mengembangkan poli cardiac telenursing
Kata Kunci: SDM, Keperawatan, Rencana Strategis, SWOT analisis
Referensi
Angsor, S. and Yusof, M.M. (2019), "Practicing and factors influencing the effective implementation of strategic information systems planning in a public agency", Jurnal Pengurusan, Vol. 56, pp. 95-106, doi: 10.17576/pengurusan-2019-56-09
Boateng, R. (2020), Handbook of Research on Managing Information Systems in Developing Economies, IGI Global, Pennsylvania
Chen, Y., Cai, Z., Lin, B., Yan, L., Zheng, W., Kuo, M., Hübner, U., & Chang, P. (2022). Developing a professional-practice-model-based nursing organizational informatics competency model. International Journal of Medical Informatics (Shannon, Ireland), 166, 104840-104840. https://doi.org/10.1016/j.ijmedinf.2022.104840
Chen, Y., Chiu, Y., Teng, M., & Liao, P. (2022). The effect of medical material management system app on nursing workload and stress. BMC Nursing, 21(1), 19-19. https://doi.org/10.1186/s12912-022-00806-4
David, F., & Forest, R. D. (2017). Strategic Management: A Competitive Advantage Approach Concepts and Cases Sixteenth Edition. England: Pearson Education.
Dwisatyadini, M., Hariyati, R. T. S., & Afifah, E. (2018). The effects of the application of SIMPRO on the completeness and time efficiency of nursing documentation in the outpatient instalation at dompet dhuafa hospital parung. IOP Conference Series. Materials Science and Engineering, 332(1), 12034. https://doi.org/10.1088/1757-899X/332/1/012034
Hakam, F., Nugroho, E., & Meliala, A. (2017). Analisis Sistem Dan Teknologi Informasi Sebagai Acuan Dalam Perancangan Rencana Strategis Sistem Informasi Dan Teknologi Informasi (RENSTRA SI / TI) Di Rumah Sakit Islam Yogyakarta PDHI. Jurnal Sistem Informasi (JSI), 9(1). https://ejournal.unsri.ac.id/index.php/jsi/article/view/4040
Hariyati, T. S., Kobayashi, N., Sahar, J., Nuraini, T., & Solihin, J. R. (2018). Simplicity and completeness of nursing process satisfaction using nursing management information system at the public health service "X" indonesia. International Journal of Caring Sciences, 11(2), 1034-1042.
Increasing the impact of strategic information systems planning. (2022). Strategic Direction (Bradford, England), 38(5), 7-9. https://doi.org/10.1108/SD-03-2022-0026
Kitsios, F. and Kamariotou, M. (2019), "Strategizing information systems: an empirical analysis of IT alignment and success in SMEs", Computers, Vol. 8 No. 4, pp. 74-88, doi: 10.3390/ computers8040074.
Kitsios, F., Kamariotou, M., Madas, M.A., Fouskas, K. and Manthou, V. (2019), "Information systems strategy in SMEs: critical factors of strategic planning in logistics", Kybernetes, Vol. 49 No. 4, pp. 1197-1212, doi: 10.1108/K-10-2018-0546.
Kurniawan, A., Shidiq, F. H. A., & Lazuardi, L. (2021). Penyusunan rencana strategis sistem informasi dan teknologi informasi di rumah sakit jiwa grhasia daerah istimewa yogyakarta. Journal of Information Systems for Public Health, 6(3), 43. https://doi.org/10.22146/jisph.46182
Moinzad, H., & Akbarzadeh, M. H. (2022). How to improve information technology strategic planning effectiveness using balanced scorecard, risk and maturity analysis, case study health information technology? A qualitative study. Health Science Reports, 5(6) doi: https://doi.org/10.1002/hsr2.92
Moon, W. (2019). Development and evaluation of NRMIS (Nursing Resources Management Information system) for managing healthcare resources. Technology and Health Care, 27(5), 557-565. https://doi.org/10.3233/THC-191743
Peraturan Menteri Kesehatan Republik Indonesia Nomor 24 tahun 2022 tentang Rekam Medis.
Peraturan Menteri Kesehatan Republik Indonesia Nomor 82 tahun 2013 tentang Sistem Informasi Manajemen Rumah Sakit.
Robbins, S. P., & Judge, T. A. (2019). Organizational Behavior (17th editi). Pearson Education.
Septiana, Y. (2017). Perencanaan Strategis Sistem Informasi dengan Pendekatan Ward and Peppard Model (Studi Kasus: Klinik INTI Garut). 8, 8–24. https://jurnal.amikgarut.ac.id/index.php/jwi/article/view/28
Stoumpos, A. I., Kitsios, F., & Talias, M. A. (2023). Digital transformation in healthcare: Technology acceptance and its applications. International Journal of Environmental Research and Public Health, 20(4), 3407. doi: https://doi.org/10.3390/ijerph20043407
Teixeira, L., Cardoso, I., Jorge Oliveira e Sá, & Madeira, F. (2023). Are health information systems ready for the digital transformation in portugal? challenges and future perspectives. Healthcare, 11(5), 712. doi: https://doi.org/10.3390/healthcare11050712
The ED Nurse Manager's Guide to Utilizing SWOT Analysis for Performance Improvement: JEN. (2020). Journal of Emergency Nursing, 46(3), 368-372. https://doi.org/10.1016/j.jen.2020.02.006
Wager, Karen A, Lee, Frances A, Glaser, John P. 2022. Health Care Information Systems; A Practical Approach Forh Health Care Management. Jossey Bass, 5th Edition.
Wulandari, C. I., & Wildani, A. A. (2019). Realisasi Rencana Strategis Kepala Bidang Keperawatan Dalam Menerapkan Sistem Informasi Manajemen Keperawatan. Journal of Holistic Nursing Science, 6(2), 58–63. https://doi.org/10.31603/nursing.v6i2.2742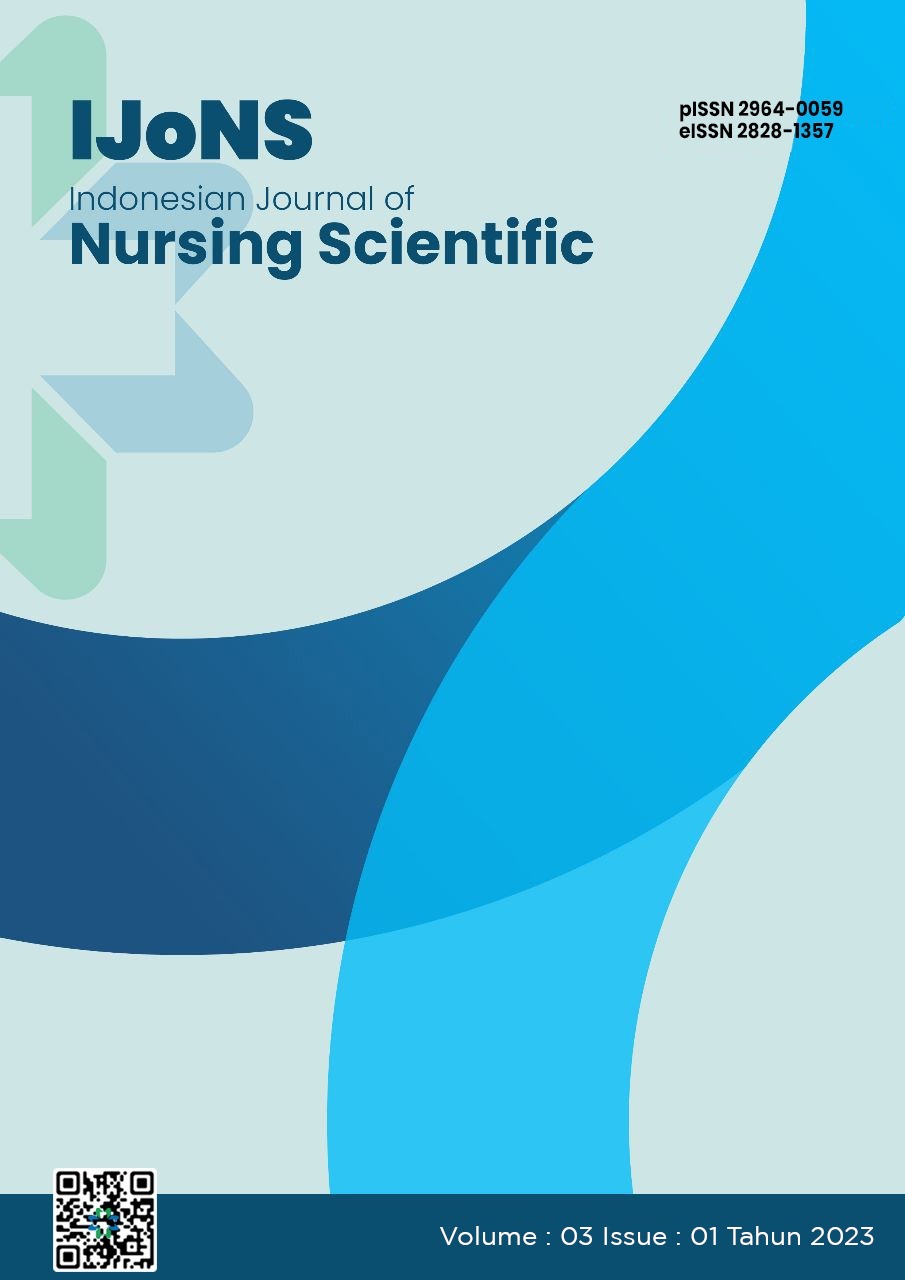 Unduhan
Lisensi
Hak Cipta (c) 2023 Pinandhika Jayawisastra, MEYLLY SUMAMPOUW, VERONICA CHAIN, Puji Lestari, Widiya Yulian Situmeang
Artikel ini berlisensi Creative Commons Attribution 4.0 International License.